You've got nothing to lose but weight!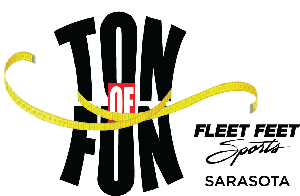 Healthy habits begin at home and with more time off due to summer breaks and vacation time, there is no better time to start taking steps to adopting healthy behaviors, including increasing physical activity. To help families access information on leading a healthier lifestyle, including exercise and menu planning options (with incentives), Fleet Feet Sports Sarasota and United Healthcare have partnered together to offer Sarasota and Manatee County residents an affordable—and fun—way to jump start weight loss and explore a variety of fitness options.
'Ton of Fun' is a community-based weight loss initiative started in 2015 by Fleet Feet Sports Sarasota owners, Molly and David Jackson (who also own the two New Balance stores in Sarasota and University Park), and United Healthcare to help local residents lose a ton of weight, 2,000 pounds, and keep Sarasota on the Florida Department of Health's 'Healthy Weight Community Champion' list.
Now in its fifth session, 'Ton of Fun' provides a sound and engaging alternative to extreme weight loss and exercise programs that can be self-defeating and not sustainable in the long run. By providing access to a range of community partners, including nutritionists, physical therapists, trainers, yoga instructors and coaches, participants choose from a menu of weekly options to help them on their wellness journey.
Open to teens and adults, anyone 12 years of age and older, 'Ton of Fun' brings together the five key steps to helping people achieve a healthier lifestyle: helping participants determine goals and motivations; establishing baseline measurements; rewarding participants for their progress; revisiting/adjusting goals weekly; and making sure goals stay realistic.
Overweight most of her life, retired Sarasota teacher Denise Fugere had tried lots of diets and while she had some short term successes, the weight always crept back. When she heard about Fleet Feet's 'Ton of Fun' challenge, her interest was piqued.
"I lost a total of 30 pounds while I participated in Ton of Fun," Fugere says. "As I lost weight my friends at work kept asking me what diet I was on and I told them I wasn't really on a diet I was just being more conscious of what I ate and exercising more."
While participating in Ton of Fun, Fugere was exposed to a variety exercises such as yoga, walking, and kickboxing.
"I never would have had the experience with these things if I didn't join," she says. "It was really quite a bargain considering all the things I gleaned from this outstanding program. I would most definitely recommend the program to anyone that is interested in living a healthier lifestyle and or losing weight. And the staff at Fleet Feet Sports Sarasota are very welcoming and encourage people at all levels. They make you feel like family and immediately and encourage you."
The 'Ton of Fun' Details
Fleet Feet's 8-week program is designed to help you reach your personal weight loss goals. You will receive ongoing support and resources along the way, including:
Weekly nutritional tips
Healthy recipe ideas
Access to a Registered Dietitian
Access to our local Health and Wellness Community Partners
Free workout opportunities just for you!
Discounted rates for other Fleet Feet training programs
Customized 5k training program and FREE 5k Fun Run/Walk graduation event!
Free tech shirt to everyone that participates in the 5k program
Private weigh-ins
UnitedHealthcare sponsored step contest. (pedometers provided to every participant)
Weekly motivational e-newsletters
Closed group Facebook page
Price incentives along the way
Coupon book full of deals and discounts for all the things you need to lead a healthy and fit life
Summer session runs through Aug. 18 with enrollment open through July 11.
Fall session begins Sept. 19 and runs through until Dec. 2.
Cost: $50/first adult (21 and older); $30 for an accompanying teen (12 and older) or spouse or friend ($350-plus value per person).
For more information or to register, visit FleetFeetSarasota.com or email Whitney at manager@FleetFeetSarasota.com.