Flying High with Acroyoga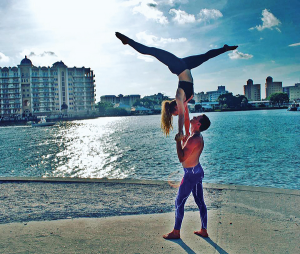 If you have kids, you've probably done it. Or maybe, you remember it yourself. Up on Mom or Dad's feet, flying like a bird or an airplane …weeee!
As Sarasota's CircuSoul Yoga's class description reads, "Acroyoga is this for adults, plus so much more."
Combining the yoga you know, the acrobatics you remember as a kid, and the healing arts, acroyoga achieves the perfect balance blending yoga enlightenment, acrobatic power, and benevolent healing arts. These three lineages form the foundation of a practice that cultivates trust, playfulness, and community, according to CircuSoul Yoga.
Acroyoga may be the most playful and joyous workout you'll have. So if you're looking for something completely new, acroyoga might be for you.
"The only thing required in acroyoga is that you have fun," says Brittany Wilcox, Sarasota-based aerial silks instructor. "I love acroyoga simply because it can be enjoyed by anyone, anywhere, at any time."
Massage therapist Joshua Mauro has been practicing Acroyoga for about a year. He describes it as a two-person activity that combines yoga poses and acrobatic movements.
"Typically there is a base and flyer, who remain connected at all times. The base lies on their back in a 'L-shape' and balances the flyer above them with their hands and feet. It's all about balance, stacking, stability and stretching," Mauro says. "Acroyoga is also an awesome isometric, partnered workout that develops a huge bond of trust between the base and flyer."
Mauro also explains the "solar and lunar" side of acroyoga.
"The 'solar' side is more like playing with friends, making fun shapes for pictures, or creating a washing machine for videos; 'washing machines' are flows, or a series of movements, to link different poses, that are designed to return the flyer to the original pose in which the flow began," he explains.
"The 'lunar' side is therapeutic and healing for both base and flyer. The base will balance and stretch the flyer through different poses. Many of the stretches are done through inversions and back bends, using traction and allowing gravity to decompress the spine and alleviate pressure off of the disks," Mauro says. "These stretches are held in long poses, allowing the flyer to breathe into them, letting the body's tissue to stretch. The flyer can perform Thai massage and stretches on the base."
And while an understanding of the 'sides' may be helpful, the idea is to have fun.
"Acroyoga also develops a community just like yoga. It creates an environment where I can reach out to other communities to learn and play with others," Mauro says. "It really doesn't feel like a workout …until the next day."
Wilcox agrees.
"It's not only a lot of fun, it's a great way to connect with a complete stranger, or strengthen any friendship," says Wilcox. "It's mentally and physically challenging, so it keeps the mind and body constantly stimulated."
Every Sunday evening, weather permitting, CircuSoul's 'AcroYoga Sarasota' meets from 5 p.m. until dusk "for some fun in the beautiful landscape of Sarasota Bay at Marina Jacks … where people can come and fly and unlock your human potential." The acroyoga "jams" are open to all ages and levels, and are donation-based. There's no registration required; just show up. Folks are advised that in the event of rain, to please meet at CircuSoul Yoga studios, located at 4141 S Tamiami Trail Suite #11.
"Acroyoga is a great way to build self confidence and trust in others," Wilcox says. "We have strong 'acro' community in Sarasota that I am so happy to be a part of."
Check out the AcroYoga Sarasota group Facebook page for more information.