White Picket Produce Expands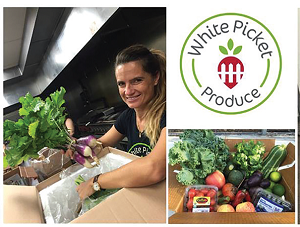 White Picket Produce, the Sarasota organic produce delivery company, is now delivering to Bradenton and Parrish.
In addition, White Picket Produce has also announced its new partnership with two local bakeries, Glenn Family Bakery and Ugg Bakery, to offer organic sprouted grain breads, gluten-free cookies, Paleo/gluten-free sandwich bread and vegan baked goods.
White Picket Produce owner Sharyn Vross says there was tremendous demand for her to expand the delivery area to include Manatee County communities.
"I love the fact that it's like bringing the local farmers market directly to your door," Vross says. "Many people don't have the time to visit area farmers markets and they really miss out on amazing fresh, local food." Not anymore, she says, since White Picket Produce delivers from Venice to Parrish.
White Picket Produce home delivers local organic produce in a variety of quantity options weekly, bi-weekly or monthly. In addition to local
organic fruits and vegetables, customers can also request goods from Joyce Farms Natural Chicken, local non-GMO, grass-fed beef, High Plains Bison and Bison sausages, Niman Ranch bacon, cage-free eggs, Sarasota honey, locally brewed 221BC Kombucha, raw/vegan snacks from Siesta Key-based 'Nutritious You' and with the partnership with local bakers, organic, Paleo, gluten-free and vegan breads and baked goods.
For more information, visit WhitePicketProduce.com.