Why joining a running group may be your best motivation ever!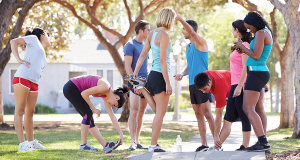 If you are a javelin thrower or high jumper, you are on your own for training. If you are a football, softball or soccer player, you are definitely going to have to practice with others. If you are a runner, however, you can have it both ways. You can conquer that deserted road by yourself and clear your mind. Or you can join a running group and train with other like-minded enthusiasts and reap a lot of rewards.
USA Track and Field lists 93 registered running clubs in Florida, plus another 90 "unofficial" teams statewide, and, of course there are hundreds of very informal groups organized through work places, churches, fitness centers and neighborhoods. You name it, people will run around it.
The president of the Bradenton Runners Club, Joe Tanner, say that simple motivation seems to be the best reason for being part of a running group. That group is 30 years old and has 200 members of all ages, according to Tanner. "If you really want consistent training," he suggests, "you are much better off running with a group."
Some days, you aren't going to want to put on those shoes and sweat your hiney off. Fatigue, work, and family can get control of your schedule. But when you have paid a membership fee, committed to a workout schedule with friends, and have your running shoes in the car, the odds of running regularly are greatly enhanced.
Practical Reasons
Any toddler can run, but there is a lot of technique to learn as an adult runner, so joining a running group can provide plenty of free, high-quality information from seasoned runners. The veterans will happily recommend favorite brands of shoes, clothes, nutrition supplements and sunscreen. And they can talk about blisters and BMs for hours. Newbies in the running world will also need to learn running etiquette, and a group will quickly embrace a runner who is "learning the ropes" when it comes to passing other runners, resting, hydrating, assisting folks on the track, and even spitting.
When runners compete at venues away from home, the group can share so many things including advice, travel expenses, and good will. Fellow runners may be relied upon for race-day conditioning tips, gas money and a pat on the back when they finish. If you sprain or strain, you'll likely get lots of encouragement during your recovery.
The slogan "safety in numbers" certainly applies to runners. Which is easier for a driver to notice—10 runners or a solitary figure? And after dark, will you feel safer on a running path with a handful of friends or by yourself? Odds are you will be noticed, respected and accommodated more often when you are with a group.
Social Reasons
As Tanner explains, "Running clubs do so much together all year round, they truly are extended family." The Bradenton Running Club has organized runs five days a week, plus social gatherings including 'happy hours,' pizza parties, awards banquets and beach parties throughout the year. And the club holds a Turkey Trot on Thanksgiving Day to help provide food and clothing for families in need.
Other running groups in the 941 include the Manasota Track Club and Lakewood Ranch Track Club.
A running group will give you a mental boost on and off the track, as you meet new people with a common interest, share successes and disappointments, and find out where you fit in the running spectrum. Ready, Set, GO.
Local Group Runs
Sunday
Half & Full Marathon Training – 6:30pm. Fit2Run, The Runner's Superstore, 1400 Main St, Sarasota.
Monday
Venice Group Run – 6am. Any age and any skill level is welcome here. Centennial Park, 200 W Venice Ave, Venice. Near the gazebo and restrooms. Call AnneMarie, 941-485-3245.
Tuesday
Beach Run – 6pm. Run from the south parking lot, to Turtle Beach. Run a shorter distance if you choose. Siesta Key Beach, 948 Beach Rd, Sarasota. Call Janet, 941-374-1002.
Endurance House Fun Run– 6-7:30pm. Endurance House hosts a 5k fun run. Endurance House, 5434 Lockwood Ridge Rd, Bradenton. Call 941-727-4411.
Wednesday
Mr Beery's Hump Day 5K – 6pm. All levels are welcome. A 3.1 mile run around the Gulf Gate area, that ends at a bar. Free. Mr. Beery's, 2645 Mall Dr, Sarasota.
Thursday
Early Group Run – 4:45-6:10am. This run starts at the Summerfield Park in LWR. Summerfield Community Park Pavilion in LWR, 6310 LWR Blvd, LWR. GroupRun_Early@LakewoodRanchRunningClub.com.
Sarasota Group Run – 5:30am. Start the morning with a 5 to 8 mile run, and maybe stop for breakfast. We meet at Publix, in The Landings shopping plaza. For information call Linda at 941-374-2920.
Downtown Fun Run – 6pm. All levels of runners and walkers are welcome. All finishers receive water & popsicles. Free. Meet at Fleet Feet Sports Sarasota, 711 South Osprey Ave, #1, Sarasota. Call or go to 941-894-3338. FleetFeetSarasota.com.
LuLuLemon Run Club – 6:30-7:15pm. Beginner to advanced runner's welcome for 5kish run around Benderson Park. Every Thursday evening. Free. 150 University Town Center Dr (Parking Lot 3). Contact Jessica Amaya, 941-256-3860.
Friday
Group Run – 6am. Any age and any skill level is welcome here. Centennial Park, 200 W Venice Ave, Venice. Near the gazebo and restrooms. Information and questions, please call AnneMarie, 941-485-3245.
Saturday
3 Different Group Runs – 5:30-6am. Three different start points, and three different routes, all leaving about the same time. Meet at the "Clock" Building, 2900 S Tamiami Trl, Sarasota, Southside School on Osprey, or the parking lot of Marina Jack's. Call Sharon at 941-321-1218.