Sarasota Master Swimmers Set New World Record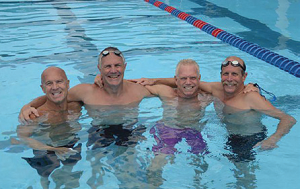 A world U.S. Masters Swimming record was set in June by Sarasota master swimmers at the Bumpy Jones Classic Long Course Meet.
The men of the Sarasota Y Sharks Masters 240+ 400 Medley set a new world record of 4:44.34 breaking the old record set by Ventura County Masters of 4:44.58.
Swimming for the Sharks were Steve Newman (1:11.56), Bill Brenner (1:20.08), Jack Groselle (1:06.98) and Rick Walker (1:05.72). The Sharks and Ventura have a recent history of trading off World Records and we can add this one to the mix.
For more information about Sarasota Sharks Masters or the YMCA Selby Aquatic Center, please call 941-922-9622. For more information about U.S. Masters Swimming, visit USMS.org.