Messenger Wins Ms. Bikini Universe Title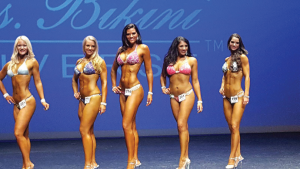 At the Fitness Universe competition in Miami Beach, Sarasota's Heather Messenger was named 2016 Ms. Bikini Universe Tall Class Champion.
Heather, who is a local Isagenix performance line rep, won her division at the international competition not just based on beauty, though Ms. Bikini Universe describes the competition as a "beauty contest," rather she won for body shape, condition and overall attractiveness.
The competition included three rounds and contestants were judged on sportswear selection, personality, appearance, poise and presence. Competitors showed off their modeling talents and creativity, and in the swimsuit, were judged on body condition, facial beauty, appearance and poise and presence. Judges analyzed body shape, tone, symmetry, complexion, poise presentation and overall condition and were also looking for a fit, toned feminine body that displayed proper conditioning.
On its Facebook page, Bikini Universe says of Heather that she is, "Truly an inspiration to all women out there.' Heather shares, 'I thought I was the only one that ever felt this way. That no one would understand, but I am here to tell women that they can get through this. That there is light at the end of the tunnel.' She has spoken very openly about her rigorous journey with fitness and as a new mother."
For more information about Ms. Bikini Universe, visit FitnessUniverse.com. To learn more about Isagenix, contact Heather Messenger at 941-724-2009 or visit StandTall.Isagenix.com.