Fit for Duty First Responders Train Like Our Lives Depend On It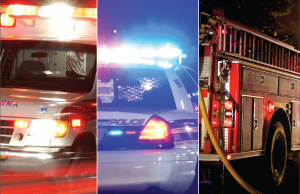 The term 'first responders' became very much part of our national lexicon after Sept. 11, 2001, when firefighters, EMTs and police officers ran in to the devastation to save lives as they risked their own. But it happens every day, in every town and city, be it a house fire or car wreck, and in many cases, much worse, as we have become all too familiar. It takes a special kind of person to run in when we're running out: brave, selfless, heroic and, importantly, physically fit.
Young Sub Kwon, a professor of Kinesiology and director of Humboldt State University's Human Performance Lab, pioneered research in 2015 to "help firefighters and law enforcement better manage the physical and emotional demands of their jobs." His position was that many first responders are not as healthy and fit as they need to be because of the stress of their jobs. Plus, he said, in the case of police officers, they are very often driving and if the need to sprint into action arises, which happens often, they have no time to warm-up; they just have to move, and move very quickly.
Sarasota County Sheriff's Office Sgt. Michelle Di Capua says how fit an officer is, or looks, can impact decision-making when chasing a fleeing suspect or coping with a life-threatening situation.
"Suspects size-up officers when making their decisions on their next move. One will think twice when a fit, muscular officer with a strong command presence is on-scene," DiCapua says. "In a life-threatening situation, strength, endurance, and mind-set can save the officer's life as well as others. When the time comes, I will not doubt my training or physical capabilities."
DiCapua stays fit, eats healthy and works out often, usually four to six times a week.
"I enjoy CrossFit. I like the camaraderie and competitiveness of CrossFit to keep me interested and motivated. To lean out, I'll increase cardio on the StairMaster," she says. "I also try to stick to a diet of lean proteins and vegetables and avoid processed foods. But I'll also splurge on a good cheeseburger and fries from time to time. When eating out on night shift, I tend to eat salads, chicken, and eggs. Bringing your own food would be the best bet to avoid buying junk food."
And DiCapua has some advice for fellow law enforcement officers about how best to get back in shape.
"Take small steps when getting back into fitness and a healthy lifestyle," she suggests. "I recommend cleaning up the diet first by cutting sugar, sodas, and junk food. Then make smalls goals that are achievable."
DiCapua recommends adding a few more seconds or minutes when jogging, adding a extra set of reps when working out, for example. "In one month, you'll be surprised how far you've come." She also suggest "throwing out the scale" and focusing rather on how clothing fits and how one's body feels as energy increases. She also says track progress with photos: "Make the time and commitment to respect your body."
Crossed trained as a firefighter and paramedic, Sarasota County Fire Department Division Chief-EMS Operations Carson Sanders, has spent the last 26 years in fire and rescue service. He knows well the stress of the profession and says being physically fit can also help with keeping first responders mentally fit as well so as to avoid burnout: "In my experience, those that are physically fit are usually able to handle the mental stress better as well." And being in good shape is critical because of the physical demands of the job.
"Firefighting and EMS are both physically taxing," he says. For example, EMS crews must lift patients and maneuver in difficult positions, firefighters have the extra weight of requisite gear including air packs, while being able to maneuver and work in dark, hot, dangerous environments. Firefighters must also use an air pack when working in hazardous environments, he says. "A firefighter's physical fitness has a direct correlation to the amount of time they can operate on a scene in a safe manner."
In 2015, the National Institute for Occupational Safety and Health reported that of the 89 firefighter fatalities, 52 died from heart attacks, not building collapses, smoke inhalation, burns, or other causes "the public might believe would cause firefighter deaths," Sanders says.
"Our abilities, including our fitness, will make the difference between life and death for others. Not only do we owe the public our very best each and every day we are on duty, but we owe it to each other. Our lives can depend on the abilities of our co-workers," Sanders says. "During an emergency, we have to be able to depend on those around us to keep each other safe. Having the physical abilities to do this is paramount." And he reminds that first responders take an oath that says "you will be at your best in order to help people on their worst possible day. Part of being at your best is being physically able to do what needs to be done."
Sanders works out six days a week with a mix of CrossFit, weight lifting, and HIIT training and says he likes to mix it up with "activities that will help with the demands of the job," like flipping tires, using sandbags, and using a sledgehammer. For Sanders, day seven is a mobility or yoga day. "Getting older, I feel much better by maintaining my flexibility," he says. "It also makes my workouts stronger."
Sanders' suggests his fellow first responders "start small" when looking to get back in shape.
"People tend to jump into something with both feet that are too restrictive in their diet and commit too much time to the work-outs. They end up getting frustrated and quit. Commit to changing your eating habits slowly," he says. He suggests taking a walk, a swim, or a bike ride first and then commit to 30 minutes a day of activity and turn it into a habit. And he says, work out with a buddy. "For the fire service, the hope is that the whole station will work out together. This makes it fun and hopefully everyone holds each other accountable." he says. "The reasons for public safety personnel to exercise and be physically fit are very serious, the training doesn't have to be. Too many people look at exercise as work. The reality is working out is fun. It can challenge yourself and others. Being your best is a mindset and the battle is to be your best, not to judge or be judged."
Nate DiBitetto is relatively new to firefighting; he's been a Manatee County firefighter for the past three years, two as a volunteer. But he's very aware, as a longtime fitness aficionado, that given the rigorous demands of the job, being physically fit is key.
"We are expected to perform a number of physically exhausting tasks at a moment's notice during our shift. Strength and stamina are two qualities that can be vastly improved with exercise and weight training; both of which can save precious seconds on the fireground," he says. "There is no time to waste and sometimes a few extra seconds could be the difference between life and death for ourselves or the person we're trying to help."
DiBitetto says fitness has always been his passion and he is always looking for "new ways to challenge myself physically and mentally and push my limits to where I never thought I could go."
"There's a saying, 'Train like you fight. Fight like you train.' This saying really hits home with me when I'm working out because there's no better way to prepare for the worst case scenario on a call than to put your body through as many of the same conditions as possible," he says. In addition to his functional training routines, he also tries to mimic actual fire or rescue call conditions. He'll sometimes perform "pre-exhaust exercises "to get his heart rate up and "fatigue my body" simulating a real scenario. DiBitetto says when he can, he'll work out in full gear including selfcontained breathing apparatus, which adds "extra weight, heat and because of the masks that we wear, adds a little of the panic factor in as well."
"I personally like to set up a circuit style training that combines, cardio, strength training, endurance and really tests your 'mind over matter' mentality," he says. "I like to do as many rounds of my circuit as possible before my air bottle runs out of air. That means going all out. As intense as my body can go until I literally run out of air. I not only am working to improve my physical fitness, but also improve my overall air consumption so that I am able to make that bottle last longer during crucial moments when a few extra minutes on the fire ground could make a difference." He also combines a bodybuilding style workout routine along with HIIT.
DiBitetto, who can be found on social media as TheFitFireman, advises that fellow first responders looking to get in shape first need to first recognize they "need to make a change."
"If you're a first responder who might be out of shape, or just wants to get in better shape, you owe it to yourself, and your community to provide them with the best version of you that you can give," he says. "We can take steps each day to get in better shape and help reduce our number of line-of-duty deaths. Don't become a statistic. Remember, train like you fight, fight like you train."