November 20, 2015
|
pulse
CROP Organic Juice Bar & Cafe Opens Third Location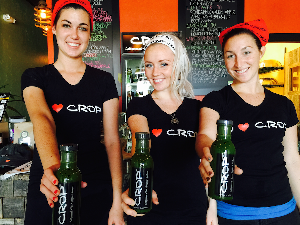 CROP Organic Juice Bar & Café is opening it's third location at 8211 Tourist Center Drive, Bradenton, FL 34201, across University Parkway from University Town Center. Since opening their first store in the Gulf Gate area of Sarasota in January of 2014, CROP has consistently been recognized as one of the areas premier cold-pressed organic juice companies. Founded by a former oncology nurse, CROP is best known for their concentration of nutrient dense leafy green juice mixed with fruit and packaged in a glass bottle. More than 20 varieties are usually available on any given day.
The juices are hand crafted daily, and the company has also recently introduced mylks, smoothies, overnight oats, desserts, energy bites and other food items. Vegetarian and Vegan meals are soon to be offered as well, including porridge for breakfast and collard green wraps and salads for lunch and dinner. Mark Chait, executive director for leasing at Benderson Development, developer of the center, said CROP is a good fit for many reasons. They're unique to the UTC collection of properties," Chait said. "They're experienced operators and they have a passion for their business." Chait is a fan of CROP's product. "I think they have the best cold-pressed juice in greater Sarasota-Manatee," he said. "It's cold pressed every day and when you want to put together juices the staff is extremely knowledgeable."
CROP officially opens on Tourist Center Drive on Saturday, November 21st at 8 am, and there will be a grand opening celebration after the first of the year. Their hours of operation are Monday through Friday, 7 am to 7 pm; Saturday 8 am to 6 pm; and Sunday 10 am to 5 pm. CROP is also opening a downtown Sarasota location later this season, in the lobby of the Ellis building at the corner of Orange Avenue and Main Street. They can be reached at 941-358-8182; you can visit their website at cropjuicesrq.com; or you can follow them on Facebook & Instagram.